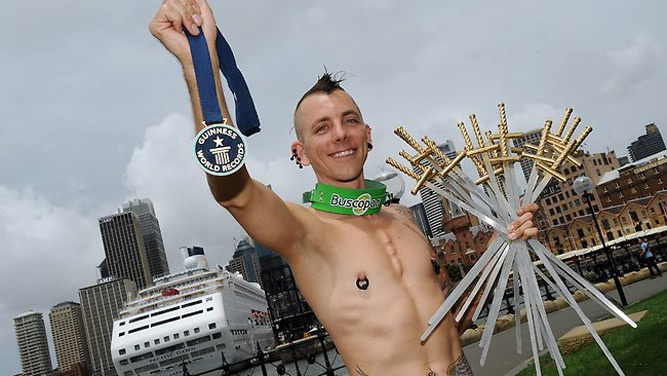 International street performer Chayne Hultgren was locked up with junkies and sexual offenders after being arrested in New York while performing his speciality: sword-swallowing.
A NYC police officer approached him and said: "I don't care if you are a sword swallower, you were holding a sword in public and I have every right to shoot you", before he handcuffed him.
Hultgren was then locked up for 24 hours with 26 other men with no food, no bed and no rights.
The police officer said loudly so everybody could hear: "Don't tell these guys you swallow".
The police claimed he was disorderly, creating a hazardous condition, and that he was swinging whips and in possession of a sword and had no identification."
<
His swords and other props were in police custody, and he got only one bag left.
This ruined a lot of traveling and show plans that Hultgren had. He even had to buy new props which are very expensive and sometimes even hard to get.