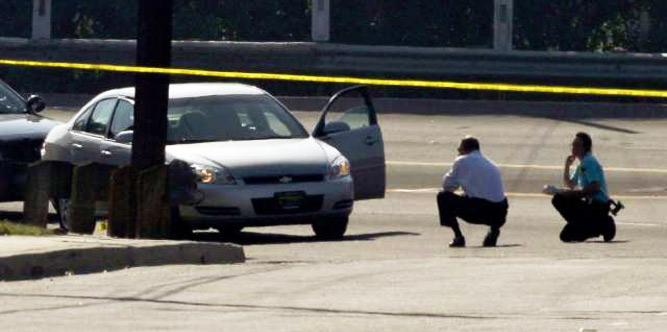 <
The reasons for a Santa Ana off-duty police officer engaging in a car chase and
killing a young man
are yet to be determined, says a Sheriff's Department official, but he confirmed that the killed man was unarmed at the time he was shot.
According to the police officer whose name remains undisclosed, he was awaken around 6 a.m. by the noise outside of his house on Longworth Avenue.
He went outside and saw two men across the street trying to break into a parked vehicle, and he confronted them. One of the men ran away on foot while the other got in the car and drove away.
The police officer got in his personal vehicle and went after them. He found the 23-year-old Jason Richard Bitz, the one that ran away on foot, across the street from Rynerson Park.
The officer got out of the vehicle and told him to stop and raise his hands, but the man refused to do it and somehow got into the driver's seat of the officer's car.
He then allegedly reached for his waistband and was shot and killed on the spot.
Rita Gomez, a friend of the Bitz family, said that he was just helping change a tire, and was given the keys to the vehicle by the owner's son. She added that Bitz was on parole, which was probably why he got scared and tried to run.
Police are still looking for the other suspect.