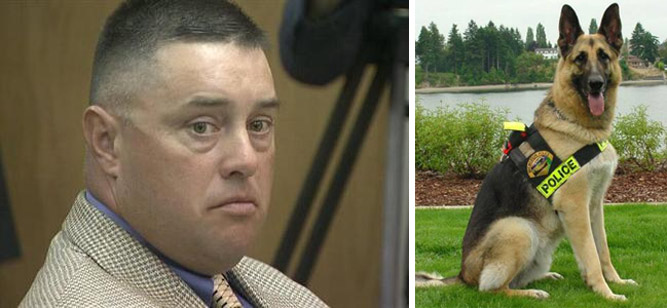 After a couple of years of trials and appeals, the North Carolina Court of Appeals finally ruled that the trooper Charles Jones, who was fired from the force in 2007, is to be reinstated with back pay. Jones was dismissed from the job for using excessive force on his K-9, and he's been battling to get his job back since.
What got him fired was one of the other troopers handing in two 15 second video clips that showed Jones kicking his dog to make him drop the chew toy he had in his mouth. Jones former supervisor Lt. Col. Cecil Lockley said in his testimony that they were planning to discipline Jones, but got instructions from "higher ground" to release him from his Highway Patrol position. The order came from then-governor Mike Easley's office and wasn't questioned. Lockley admits that Jones' discipline method used on the dog named Ricoh was "ugly", but not beyond the accepted training techniques.
<
John Midgette, executive director of the North Carolina Police Benevolent Association, said:
"These dogs are not pets. They are deadly weapons, and (if they are) not handled properly, people can get hurt – innocent people can get hurt."
Jones is going to get a back pay of an estimated $200.000 – $240.000, and it is yet unclear whether he's planning to go back to his old job or continue working for the Apex Police Department, where he was hired four months after he lost his first job.