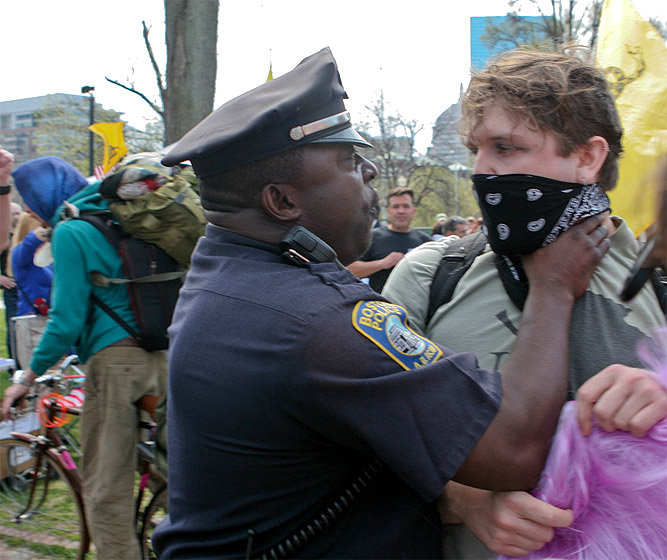 While the Massachusetts Tea Party Coalition's "Patriots Day Rally" was held to protest against taxes on Tax Day, a crowd of people gathered at a counter protest to express their opposition to the anti-gay activist Scott Lively. Two gay protesters were arrested, and one of the people from the anti-Tea Party protest followed them as they were taken away to show his solidarity with them.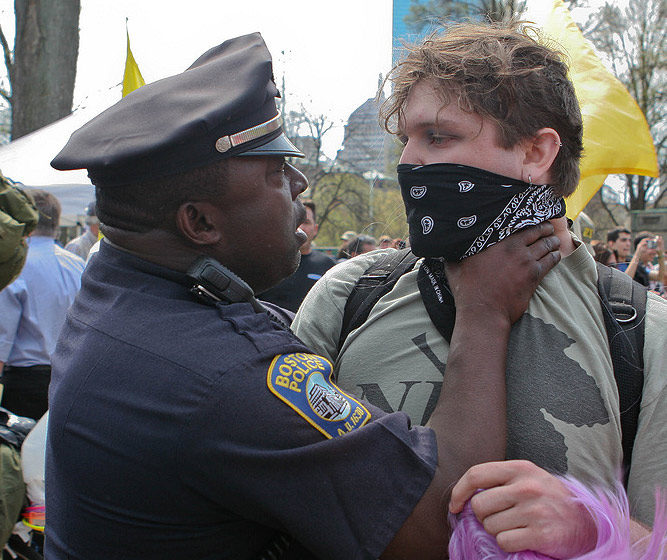 After he got back into the crowd, he was approached by one of the Tea Party supporters who knocked the wig off his head. When he asked him why did he think it was OK to do such a thing, the man replied sarcastically with "Oh, my hand slipped.". That is when one of the police officers came towards the counter protester and told him to "take his shit and get out of there", shoving him hard.
<
The man told the cop not to shove him, and that's when he reacted the way it was captured in the pictures – wrapping his right hand around the protester's neck and choking him for a short period of time. Luckily, the other protesters reacted quickly and started taking pictures, which made the cop let the man go from his grip.
This is not the sole incident caused by this police officer, who was violent to several other people in the crowd and even grabbed the phone out of the hand of one protester when he tried to take pictures.
He was also photographed getting in another protester's face and threatening him. Since his badge number has been written down, it's possible that he will be facing charges for police brutality from the harassed protesters.