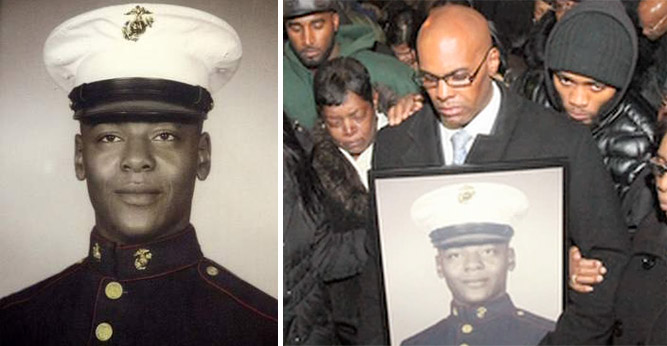 What was supposed to be a part of the routine procedure in response to a medical alert ended with an innocent man shot to death by NYPD officers. A 68-year-old Marine veteran Kenneth Chamberlain Sr. was at his home when he accidentally activated his medical alert device, causing his service provider to place a call to White Plains Department of Public Safety, sending an ambulance, police patrol and firefighters as part of the emergency alert procedure.
When cops arrived at Chamberlain's door, he refused to let them in, saying he was alright and that he needed no help. The police insisted on coming in and refused to leave, making Chamberlain panic and call his provider asking for help, saying the police were planning to kill him.
The alert system recorded the call, and the next hour of police taunting and even throwing racial slur at Chamberlain behind the closed door was caught on tape. They finally broke in, charged at him with tasers and two gun shots were heard. His niece found a horrifying sight – her uncle dying on the floor, two shot wounds on his chest.
<
The police claim Chamberlain reached for the knife on the table and one of the officers shot him in self defense, but the tape with the recorded conversation might be the key evidence in this case of brutal overstepping of police authority.