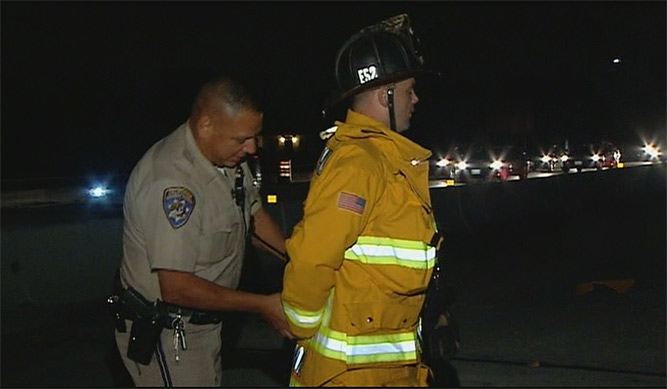 If it weren't for the CBS reporters who filmed the whole incident while reporting on a 805 Freeway crash, it would be hard to believe that a firefighter who was helping the victims got arrested for not moving his truck.
The on-duty Chula Vista firefighter Jacob Gregoire was helping two people injured in a car crash that happened north on I-805 between Telegraph Canyon Road and East Orange Avenue.
A California Highway Patrol officer asked the firefighters to move the three fire trucks blocking the fast lane, but only two of them complied. The 36-year-old firefighter veteran Gregoire refused to move his truck and continued to provide aid to the victims.
"It's unbelievable you guys have to treat us like this. We are trying to help you guys", said Gregoire.
The officer's response was: "We asked you to clear the road, you said 'No.' You are being arrested for not moving."
Gregoire was handcuffed and retained in the back of a CHP vehicle for half an hour before being released.
<
Chula Vista Fire Chief Dave Hanneman was shocked by the way his men were treated and he praised them for protecting the accident scene with their trucks, like they have been trained to.
Representatives from the CHP and Chula Vista Fire Department met and released a joint statement in which they declared this an isolated incident and expressed the willingness to improve communication and work together toward a common goal.