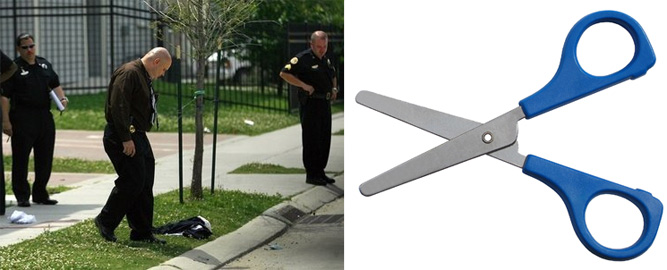 <
A 15-year-old student at Garfield Park, a private school for children with emotional or behavioral disorders,
was shot twice
after he threatened the police with a pair of scissors. The incident happened in front of the school. The boy was first threatening some school employees and also some students, before he ran out on the parking lot where he pointed two scissors at a police officer. He was asked to put his weapon down, and a witness said that she heard how they yelled
"put it down, put it down!"
before the sound of two gunshots being fired. She said she went out to see what was going on and there she saw the victim lying on his side clutching his stomach.
The officer that shot the boy, William Smith, was not injured. The shooting will be investigated according to the Burlington County Prosecutor's Office. The boy was reported in critical but stable condition at Cooper University Hospital, Camden. Carol Dunn had a similar incident with the police in New Jersey, where her son was shot by an officer outside a church because he refused to let go of the knife he was holding. "I think police should take every necessary step to save lives. This should be included in their training," she said. "Are they interested in taking lives or is the state of New Jersey interested in saving lives?"