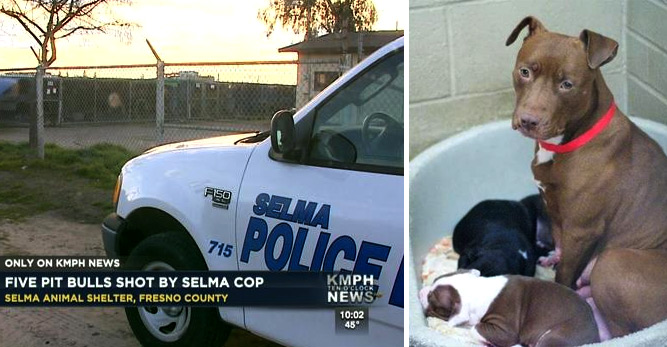 Volunteers at an animal shelter in Selma, California were horrified by police officers shooting and killing five caged pit bulls scheduled for euthanasia. The dogs were dropped off at the shelter by a couple who claimed they were too aggressive, and were supposed to be euthanized.
Selma police sergeant called the veterinarian to euthanize them, but since he couldn't come over the sergeant decided to transport the dogs to the vet clinic himself. Accompanied by another cop he tried to enter the cage and the dogs rushed in at the gate. Frightened he will get attacked by the dogs, the cop took his gun out and shot all five dogs dead.
While the authorities keep reassuring the volunteers that this kind of incident won't happen again and they're taking measures to prevent it in the future, many questions have been raised about this case.
<
Outraged people commenting on the shelter's Facebook page were asking why five dangerous dogs were put in a single cage, and the personnel replied that they were actually separated in two cages, which doesn't match Selma Police Chief Myron Dyck's story.
Perhaps the most tragic consequence is that Selma animal shelter is losing people's support after this, which could mean a death sentence to other dogs who are kept alive thanks to the donations and volunteer work.