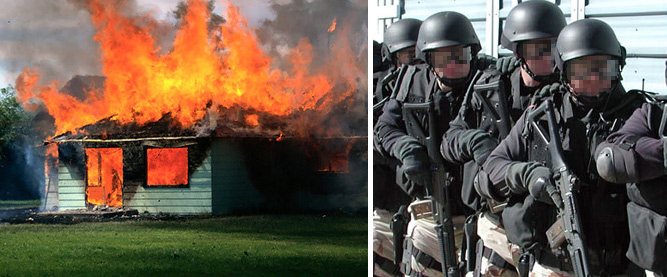 <
A very unsuccessful raid was done by the California SWAT team when they tried to scare a man from coming out of his house.
The man, Rogelio Serrato, was completely unarmed, but still the SWAT team threw a flash-bang stun grenade into his home in Greenfield, California.
They were expecting for him to run out of the house, instead he came out carried in a body bag, killed by the grenade.
The whole house stood in flames and burnt up completely.
Attorneys have now filed a civil rights lawsuit against the SWAT team and the officers involved.
The reason the team attacked him was because Serrato was a suspect in a shooting case few days later, but the attorneys found out that he wasn't even involved.
Obviously the SWAT team didn't check the information, and now a young father is killed because of their decision to bomb his house to make him get out.
Where is the logic in that?