Video 1
Video 2
A shocking confession comes from the police officer who was caught on video pepper-spraying a group of women protesters on Occupy Wall Street. Deputy inspector Anthony Bologna says he believes he didn't exceed the necessary amount of force and that he'd do the same thing again in a similar situation.
<
The incident happened on 12th Street near Union Square where a group of protesters was penned by the police with orange crowd-control rubber mesh nets.
A couple of women were standing by the nets peacefully when Bologna appeared from the crowd and started macing them.
When he emptied a whole can of spray at them, he simply turned his back and walked away like nothing happened, leaving the women fall to the ground in agony.
Anthony Bologna claims that he was aiming at a group of male protesters and accidentally sprayed the women, but surprisingly there are no men to be seen anywhere near those women on the video.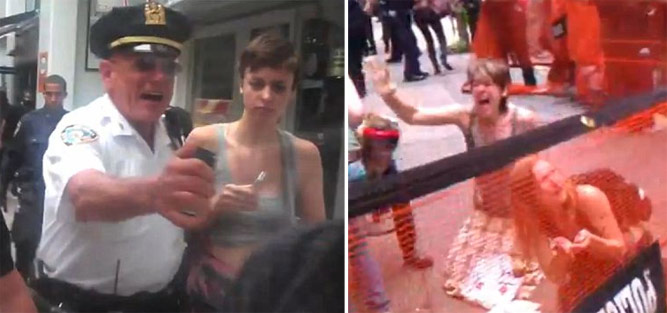 Shockingly, this is not the sole incident caused by inspector Bologna. Another video shows him going berserk and pepper-spraying a different group of protesters as they were walking away from the spot when another police officer told them to move.