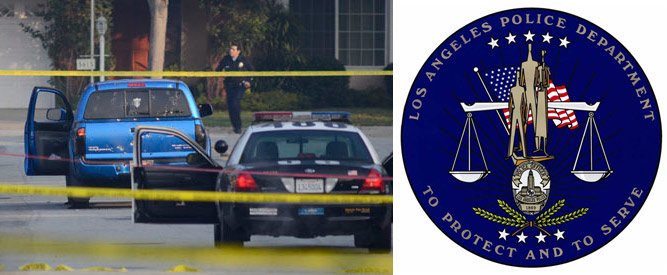 When 47-year-old Margie Carranza and her mother, 71-year-old Emma Hernandez, drove off to deliver newspapers like they do every day, they had no idea they would become the victims of trigger-happy LAPD cops.
The two women work as newspaper carriers and travel around in a pickup truck, and following their usual route could have been fatal for them. On Torrance street, several police officers were on patrol in front of their captain's house, protecting him from a suspected gunman. Christopher Dorner is a former Los Angeles Police Harbor Division officer who recently set out on a vengeful mission, trying to kill his former colleagues who fired him three years ago.
In a bloody rampage, he killed the daughter of one of the officers and her fiance, and shot three cops in Riverside County, killing one. Dorner even posted a manifesto online to explain his intentions, and in the light of recent events, the police were alert and ready for Dorner. Unfortunately, while defending their captain, they made protocol violations that could have cost two innocent women their lives.
<
Carranza and Hernandez drove through Torrance street when the police opened fire at them. The truck the two women were in was a different shade of blue and a different model from Dorner's, but no one bothered to double check the suspect info before shooting.
They opened fire without a warning or the attempt to stop the vehicle, shooting to kill. The 71-year-old Hernandez was shot twice in the back while her daughter was hit in the hand. One of the neighbors said he heard around 20 shots, and one of the photos from the scene shows the newspaper truck riddled with bullets.
Carranza is physically okay but still deeply shaken, and her mother is in intensive care and it's still unknown whether she'll suffer permanent physical damage. The police called it a case of mistaken identity.