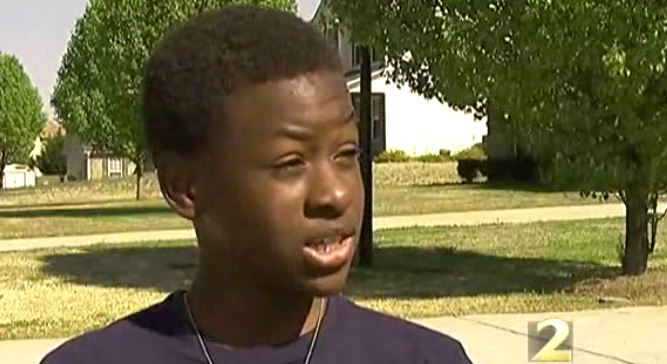 Omari Grant, a 11-year-old Georgia boy, was allegedly harassed by two police officers while playing with his friends in the woods. His mother Janice Baptiste is filing an excessive force complaint.
Young Grant was in the woods behind his home with several friends, playing at their usual hangout spot. The kids decided to build a tree fort and started cutting and gathering branches and other material. One of the neighbors called the police to complain about the children "chopping off tree limbs" and two officers showed up in response to the call.
According to the boy, one of the cops pointed a gun at them and made them lie on the ground with their legs spread. He also claims that the officers used foul language. Edgar Dillard, whose wife called 911, was shocked with the officers' reactions on something they believed was just a safety issue. "There were falling hazards, tripping hazards, all types of hazards, so No.1 was concern for the children and concern for the environment," Dillard said.
<
The event left the children in shock and scared for their lives. "I was thinking that I don't want to be shot today, so I just listened to what they said," said Grant, who is still scared every time he leaves the house. Henry County Police Department Sgt.
Joey Smith says that the incident is under investigation, but the Department has refused to reveal the names of officers involved.