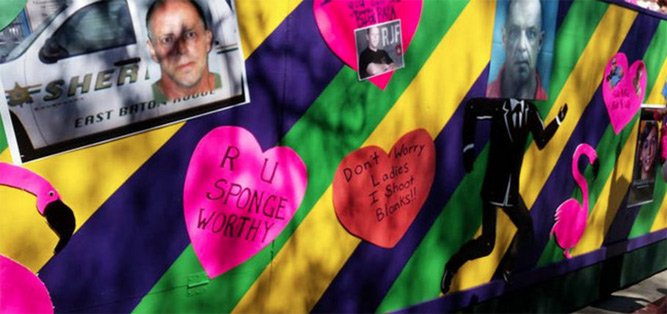 This year's Spanish town Parade in downtown Baton Rouge, LA was one of the worst things that could happen to a rape victim, Stephanie Ford. Officers from Baton Rouge police department mocked to woman that was raped by her father in the childhood.
Three officers,  Donald Young, John Byron Fontenot and Douglas Atkins, helped decorate and later rode on a float with a theme of the local reality show "Sons of Guns" and the focus was on Stephanie, the daughter of former television star Will Hyden. The float was decorated with a picture of Stephanie Ford with caption underneath the photo "A face only a daddy could love". There were also other offensive statements on a float "decoration" like "Kiss me daddy".
Hyden is charged for sexual assault on three persons, his own daughter along with two other victims.
Baton Rouge police department is having an inside investigation of the police officers that were riding on this disgracing, disgusting, and hateful float. BRPD Chief Carl Dabadie said that this is not something that should represent his department and that this is serious matter that nobody should joke about.
Although it's not the general attitude of BRPD, these officers that were making fun of the rape victim, are the ones that wear badge, and their duty is to protect people not mock at them.
<
There is also another problem that raises concerns. If this is the attitude of the police officers, how many rape victims are actually going to report what happened to them?
Stephanie Ford stated: "I was assured by the Baton Rouge (police department) that my safety and rights would be protected. To have a member of law enforcement treat me, a victim, in this manner tells women and children across America that their worst fears will be realized if they come forward".
It is a serious problem that rapist will not be punished if the victims never report them. The worst fear of the victims is that they will be further victimized or shamed. So is this the way of helping them?