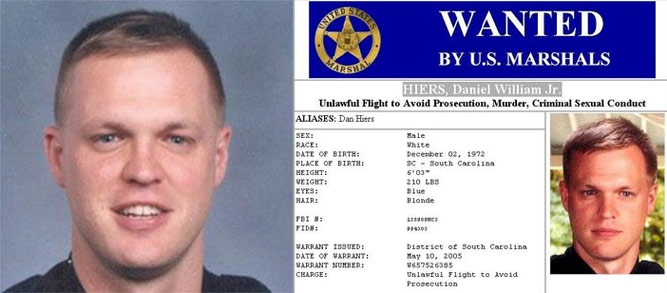 <
Police officer charged with murder
and child molestation is now on the U.S. Marshals Service 15
"Most Wanted"
list.
The Marshals Service said Daniel William Hiers allegedly used his position of trust to gain the confidence of a single mother, then molested her 10-year-old daughter over a period of several months.
Hiers, 32, was arrested in 2004, suspended from the police force and released on bond.
When he failed to show up to answer charges officers found his wife in their bedroom with a fatal gunshot to the head. Hiers was charged with this murder, but has been a fugitive.
Hiers is a white male, 6 feet 3 inches tall, 210 pounds with blue eyes and blond hair. He has 11 years police experience, is trained in the martial arts and maintains a high level of fitness.
The U.S. Marshals Service believes that he is armed with a .40-caliber Glock pistol and may possess a bullet-resistant vest.
Cops have no idea how far Hiers has managed to escape, or which way he went. Investigators believe that he is driving his wife's car. They are concerned because the hospital where his car was found is located close to the Mexican border. The car is examined for any evidence that will link Hiers to the crime.