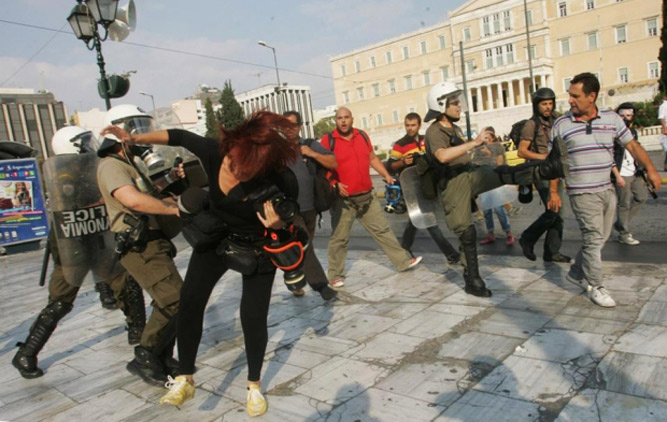 In Athens Greece police officer assaulted a woman photographer ,during anti-austerity protest. Athens newspaper Kathimerini said that the officer was charged with unprovoked bodily harm, verbal abuse and violent behavior. The officer works for riot police,but they wouldn't named him.
The photographer, later identified as Tatjana Bolari ,who works for the Athens News Agency, claimed that the hit cause her to loose a tooth. Other members of the press also said that they had been attacked and have filed a suit against the police.
POESY- the journalists federation said that the attack was "barbaric" and invited the police to take part in a seminar on October 12, on the issue of the police and human rights.Five months ago another journalist-Manolis Kypraios, lost his hearing after a police stun grenade went off next to him while he was covering a protest.
<
Other police officers were also seen on videos and in photos assaulting people without provocation, during those protests.Those assaults were condemned by the government in statements, but for which none of the officers were arrested or charged with any misconduct.
Police have said they were just defending themselves and that they've had chunks of marble and Molotov Cocktails tossed at them during the protest.Although that was the official statement from the police, people claimed that they were beaten and attacked without any reason.