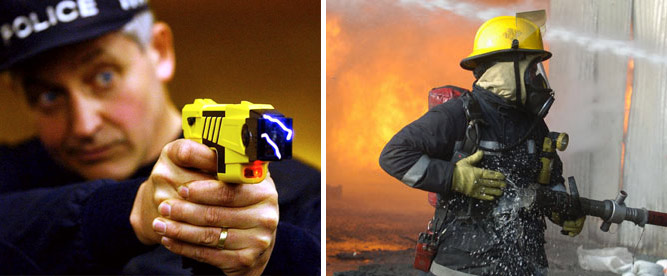 This is just one of the alarmingly increasing number of allegations on the account of racism against Scotland Yard that was made this year, this time by a black firefighter who came to assist the police but ended up tasered and cuffed.
The event took place in Harrow, North London when the 28-year-old firefighter Edric Kennedy-Macfoy was driving home late at night. He drove by a group of police officers trying to shut down a large party of about 200 people that had become too loud. Some of the partygoers became violent and started throwing rocks and bottles at the officers, slightly injuring four of them. Kennedy-Macfoy identified one of the people who stoned the police van, and in his attempt to help he drove through the cordon and approached one of the officers to give them the description of the violent young man.
Before he even got a chance to speak, a group of six officers assaulted Kennedy-Macfoy while pouring racial insults, shocked him with a stun gun and finally arrested him for no apparent reason.
<
One of the policemen, inspector David Bergum later testified in court "I couldn't say he was anything to do with the party. The party was all black. He was black. He had driven through the cordon. I had to do a quick risk assessment." proving that the assault and arrest were the sole consequence of Kennedy-Macfoy's skin color.
Kennedy-Macfoy was charged with obstructing police, but was found not guilty. He has now made a formal complaint against the force which is under the investigation of Directorate of Professional Standards and the Independent Police Complaints Commission (IPCC) along with eleven other separate allegations of racism.