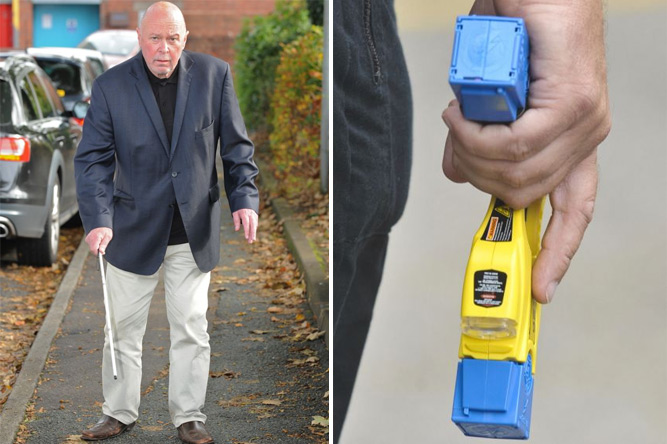 Police of the town Chorley, North West England, made a mistake that nearly cost 63-year-old Colin Farmer his life. The blind man was shot in the back with a 50,000 Volt taser gun after the officers mistook him for a suspect carrying a samurai sword.
Farmer has suffered two strokes and is partially paralyzed and blind, so he carries a white cane to help him walk and let others know of his visual impairment. He was walking down the street around 6 p.m. to meet his friends at a local pub when one of the police officers shouted at him to stop. Farmer, who walks at a very slow pace due to his condition, didn't assume the officer was addressing him and continued to walk. That's when he got shot in the back with a taser gun, falling to the ground in shock and pain thinking he was dying from another stroke.
<
It turned out that someone had called the police claiming there was a man walking downtown with a samurai sword, and one of the cops somehow confused Farmer's white cane for a martial arts weapon. The real suspect, a 27-year-old man was arrested later, but charged were dropped since there was no weapon found.
Farmer is now suing the police claiming damages for assault, false imprisonment and a breach of his human rights.