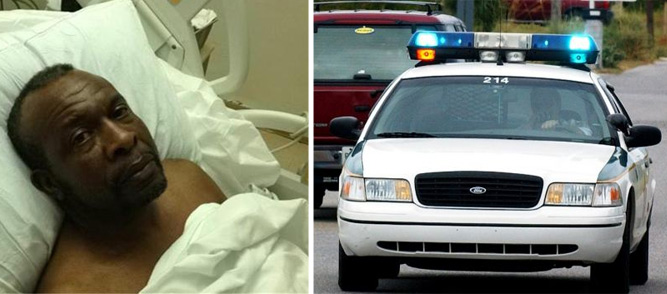 Roy Middleton, a 60-year-old man from Pensacola, Florida, was shot at 15 times by the police after being mistaken for a car thief. Thirteen out of fifteen bullets missed the target and Middleton survived, left with a shattered leg.
It was late at night when Middleton drove from a friend's house and parked in his driveway. One of the neighbors mistook him for a car robber and dialed 911. Two Escambia County officers, sheriff's deputy Jeremiah Meeks and Sgt. Matthew White responded to the call and drove to the scene. According to them, Middleton failed to obey their orders and lunged at them, which resulted in the shooting. They fired 15 shots altogether but hit Middleton only twice, shattering his leg. They handcuffed and arrested the injured man who was released after the identity mistake was cleared up.
As the result of the shooting, Middleton's leg is held together by metal rods and he can't walk without a walker. He claims that it took less that 30 seconds for the officers to shoot at him and that he wasn't trying to disobey their orders.
<
"Why would I lunge at someone halfway down my driveway? How I'm going to lunge at them? With what? I was getting ready to do what they asked me – raise my hands, and I got shot during that."
Middleton was unarmed, holding his car keys with a keychain flashlight on them when he was shot. He says that he was sober at the time and that he only had a couple of beers around 2 p.m. that day.
Sheriff David Morgan supports the officers' story, claiming that it was the "herky-jerky" movements of the man that made them believe he was lunging at them. Roy Middleton is in the process of filing a suit against sheriff's office for excessive use of force. Both officers are currently on paid administrative leave as the case is under investigation.