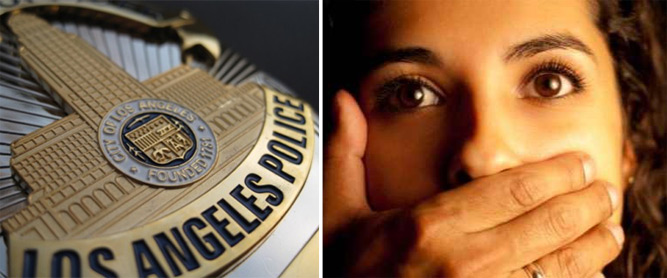 LAPD officers Luis Valenzuela and James Nichols are under investigation for allegedly forcing women into performing sexual acts under threat of arrest, several times over the past five years. So far four women have made independent accusations against them, all involving a strikingly similar scenario.
All four women worked either as informants for Valenzuela and Nichols or have been previously arrested by them, so the two officers used that info to scare them into obeying. Valenzuela and Nichols would drive plain-clothed in an unmarked car and force women to get in, threatening to arrest them if they refuse to. They would drive to a secluded area where one of the officers would molest the woman while the other would keep watch.
The first case against the two officers was opened in January 2010, but the detective assigned to it was unable to locate the woman who made the accusation and the investigation was stopped. A year later, another woman reported being forced into oral sex by Valenzuela while Nichols was watching. This incident took place in 2009, but the woman hesitated to press charges because she was scared for her life and thought no one would believe her.
Her accusation reopened the case, but for 18 months the investigation didn't show any progress. In July 2012, a member of the Echo Park neighborhood watch left a phone message to the Northeast Station claiming that the officers who patrol that area pick up prostitutes and release them in exchange for sex, which gave new material for the case.
<
The investigation identified two women who claimed they were raped by Valenzuela and Nichols on several occasions in the past five years.
Chief of police Charlie Beck has suspended the two officers and ordered discipline hearing panels to decide if they are guilty or not.
Sources close to the investigation claim that there is enough evidence so far to have them fired, but since according to Los Angeles city rules the chief of police doesn't have the authority to fire an officer outright, they have to wait for the hearing.