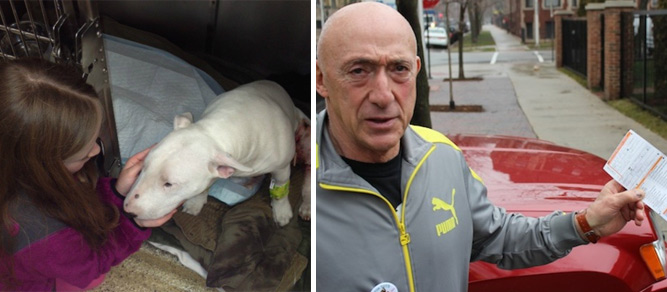 Parking his van in the wrong spot cost 74-year-old Al Phillips a ticket and $8,700 in medical expenses for his beloved show dog Colonel who got shot by the Chicago officer.
The shooting took place in front of Phillips' home around 3 p.m. and only by luck had no greater consequences.
Al Phillips was at home with his family when a neighbor told them there was a cop outside writing them a ticket. Their van was parked in the driveway, but blocking part of the sidewalk, which caught the attention of the cop scouting for vehicles to ticket. When Phillips opened the door to see what was going on, his 7-month-old miniature bull terrier ran outside, wagging its tail while approaching the officer. One of the neighbors, Todd McClay, said the officer screamed two times, then fired two shots at the pup. Then he holstered the gun without a word of apology and cold-bloodedly returned to writing the ticket.
<
Phillips' wife Barbara rushed the puppy to the vet and missed her granddaughter's second birthday, but luckily the dog survived. Unfortunately, a bullet stuck in its left paw means the end of show dog career for the $2500 high pedigree pup that will probably have a limp for the rest of its life. While the neighbors are shocked by the fact that the trigger-happy officer didn't even give time for Phillips to react and get the dog, Barbara points out that some of the bullets could have ricocheted and hurt her husband or a passer-by. The couple will most likely sue the police department.