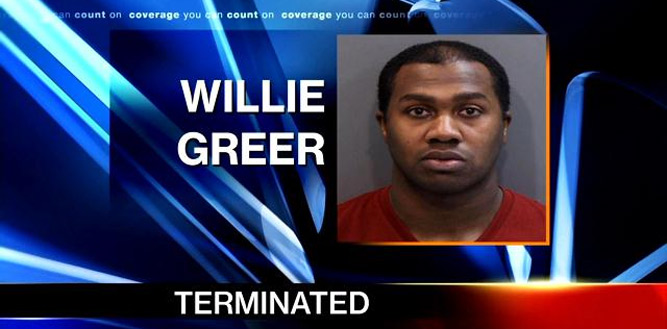 Willie Marshay Greer has been fired from Sheriff's Office patrol deputy position after a woman accused him of rape. The 33-year-old former Hamilton County deputy is charged with official misconduct and aggravated rape.
A female driver was stopped for speeding on Birchwood Pike around 1 a.m. Greer reportedly wrote the 26-year-old woman's name on his hand and returned to his vehicle. He allegedly found an open warrant for her arrest after running her name through the database, and returned to handcuff and arrest her.
The woman said that he repeated the line "I could let you go, but you'd owe me" several times. He suggested that they "need to talk about this" so the woman agreed to follow him in her car to 11300 block of Thatch Road. She said that she didn't want to get into trouble so she complied and Greer uncuffed her.
Once they arrived to the spot, Greer handcuffed her again, sat her in his patrol car and forced her to perform oral sex on him. Afterwards, he offered the victim a drink from a Wendy's cup, which she took and drove away.
Employees of a nearby Wendy's confirmed that a black police officer had purchased a fruit punch earlier that evening.
<
The woman identified Greer as the rapist after a photo line-up. Greed admitted to having sex with the woman but claimed it was consensual. The investigation showed many of his statements were "false and misleading".
Sheriff Jim Hammond said that Greer had passed a routine background check and that nothing indicated that he was capable of doing something like this.
"The vetting process was normal, there was nothing to indicate that this kind of behavior might happen, no reason to believe that this would have occurred."
Greer has been released on $50,000 bail until the beginning of the trial.